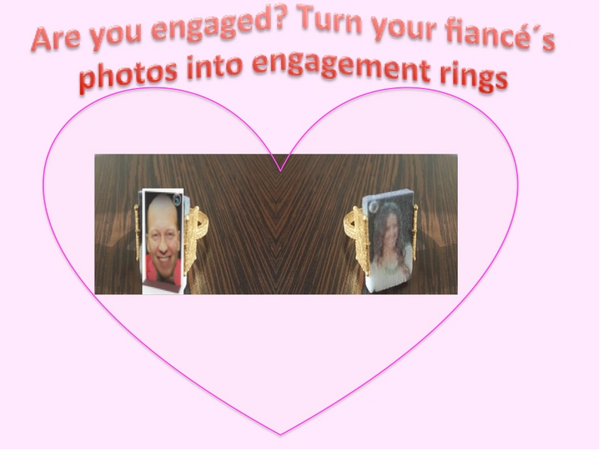 Engagement Rings
Are you engaged?. Turn your fiancé´s Selfie into engagement rings. Yes, you will be able to see her / his face all the time (and kiss her / him). For real love!. Besides, you can choose the material of your ring: golden steel, silver or gold. Please, look for the material that you want and see the price (or ask our customer service).

The ring is made of 24 K gold plated steel.


Measures: 2.6x2x1.2 cms

Buy your fiancé´s ring in golden steel for £42. Or better, buy two rings (you and your fiancé´s rings) for only £80 with the code
myfiance

when you pay. Take advantage!.


The Ring has an inside diameter of 1.94 cms (Spain size 21, Italy size 21, UK size T, USA size 9 1/2, France size 61). Besides, its shape is very confortable and it adapts to all fingers; although we recommend you to wear it in your index finger, middle finger, ring finger or little finger depending on your own measures.
If you want another measure

, please send an email to our design team

customer.service@myselfiein3d.co.uk

and ask for your inside diameter.


Before you pay; click here to send a good photo (and your name and the Selfie you are interested in; for instance: Engagement Rings)!:
Featured Products
Communions Medallion in 3D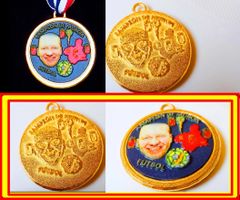 Medalla Deportiva con Selfie (Murcia)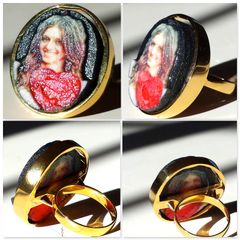 Murcian@ Ruby Premium Gold Ring Selfie