Maharaja´s Treasure Tiger Ring Selfie
Maharaja´s Treasure Tiger Ring Selfie
Maharajas and

Maharanis

were the Kings and Queens rulers of ancient India and southern Asia. They were famous all over the world for their passion for jewelry. One of their biggest pieces, was the breathtaking 61.50-carat

whiskey-coloured

diamond, "The Eye of the

Tiger

", that was mounted by

Cartier

in a turban aigrette for the Maharaja of

Nawanagar

(India) in 1934. Besides, Tipu

Sultan

was the ruler of

Mysore

(south India) and artefacts made for him were decorated with tiger motifs.
Truth be told, the lovely and fiery tiger has always been in the news in India; both for killing people and other animals and also for being hunted by Maharajas, Sultans, and important soldiers of

British India

.

This wonderful and magical wild animal has inspired hundreds of fine jewelry designs for Queens and Maharanis. Now, this is your chance to own one of

India´s Crown Jewels

: the Tiger Ring. Its design with 3

Rubies

on top and 3

emeralds

behind the tiger, shows off the

opulence

of this unique royal life. With this ring finished in 24 K gold overlay brass and steel, we also want to support the

survival

of this

marvelous and endangered

felid by helping with his preservation.


Measures: Ring:4x3x3 cm (

In:

1.254

x

/

1.58

y

/

1.165

z)
Selfie: 6x3x0.5 cm


The Ring has an inside diameter of 2 cms (Spain size 27, Italy size 27, UK size X 1/2, USA size 11 3/4, France size 67). Besides, its shape is very confortable and it adapts to all fingers; although we recommend you to wear it in your index finger, middle finger, ring finger or little finger depending on your own measures.
Featured Products
Communions Medallion in 3D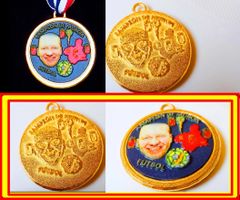 Medalla Deportiva con Selfie (Murcia)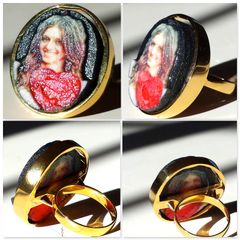 Murcian@ Ruby Premium Gold Ring Selfie