Tiger Premium Gold Ring Selfie
Tiger Premium Gold Ring Selfie
The Tiger Premium Gold Ring Selfie is made with the finest quality of plated gold (18K gold overlay) and finished to perfection (as a mirror).

Truth be told, the lovely and fiery tiger has always been in the news in India; both for killing people and other animals and also for being hunted by Maharajas, Sultans, and important soldiers of

British India

.


This wonderful and magical wild animal has inspired hundreds of fine jewelry designs for Queens and Maharanis. Now, this is your chance to own one of

India´s Crown Jewels

: the Tiger Ring.


Measures: Ring:
2.76

/

3

/

2.55

cms
(
In:
1.087

x

/

1.181

y

/

1.006

z)
(SIZE 16)



The Ring has an inside diameter of 1.78 cms (Spain size 16, Italy size 16, UK size P, USA size 7 1/2 and France size 56)

and is small to medium size. Besides, its shape is very confortable and it adapts to all fingers; although we recommend you to wear it in your index finger, middle finger, ring finger or little finger depending on your own measures.
Featured Products
Communions Medallion in 3D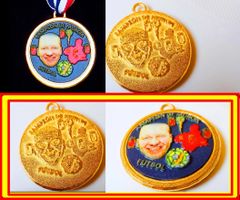 Medalla Deportiva con Selfie (Murcia)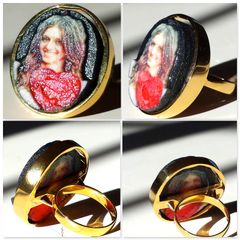 Murcian@ Ruby Premium Gold Ring Selfie